Home Page
Club Facilities
Disciplines
How to Contact Us
Duty Range Officer List

Links for Highfield Rifle & Pistol Club - Southampton

Event Calendar
Competition Info
Membership
Forms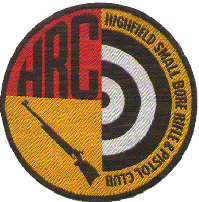 NEWS

Covid-19 Update:
-
In line with Government Directives, the club will open with strict limitations from Tuesday 28 July 2020. Note that entry will be via a booking system only and will be limited to 8 shooters per session.

Click here for a copy of the Highfield Range Risk Assessment which all shooters must read.

For Instructions for booking sessions in the range and instructions that must be followed when shooting, click HERE.



Next Committee Meeting:-
To Be Decided
Highfield Rifle & Pistol Club is a Home Office approved Target Shooting club located in the Highfield district of Southampton, Hampshire.

Highfield R&PC is registered as a Community Amateur Sports Club - registration number CASC 01431
All abilities are catered for and are welcome
This page has been visited
times.