Home Page
Club Facilities
Disciplines
How to Contact Us
Duty Range Officer List

Links for Highfield Rifle & Pistol Club - Southampton

Event Calendar
Competition Info
Membership
Forms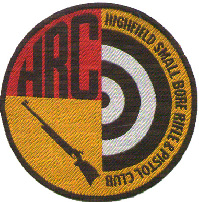 NEWS

Covid-19 Update:
-
In line with the latest Government changes to the Covid-19 Restrictions, and following guidelines from the NSRA, the club has opened for shooting with a few restrictions conditions as of Monday, 18 July 21.

Click here for the restrictions which now apply to shooting at Highfield

Full Bore Sessions:

Saturday 10 September 2022, 1.00 pm
Melville Range 50 meters

********
Highfield AGM:-
Wednesday 31 August 2022, 7:30pm
Highfield Clubroom

***************

Highfield Rifle & Pistol Club is a Home Office approved Target Shooting club located in the Highfield district of Southampton, Hampshire.

Highfield R&PC is registered as a Community Amateur Sports Club - registration number CASC 01431
All abilities are catered for and are welcome
This page has been visited
times.